Social Representations and Acknowledgement of Human Rights in the city of Monterrey, Mexico
Keywords:
Human Rights, Monterrey, news media, social representations.
Abstract
This article focuses on the social representations of Human Rights in Mexican news media, in the city of Monterrey, Mexico. It analyses how Monterrey citizens learn about human rights, and what role could different sources play in their construction of social representations. Furthermore, it researches the acknowledgement and knowledge of the subject by these citizens. The analysis is built on N239 surveys collected from Monterrey news readers, supplemented by data from twenty-four participants in four focus groups. The conclusions confirm that news media is the main source of information on Human Rights, but that there is a weak founded social representation regarding human rights. Attitudes are often fatalistic, and participants have limited knowledge of how to act upon human rights.
How to reference this article:
Inzunza-Aced, B. (2019). Social representations and acknoeledgement af human rights in the city of Monterrey, Mexico. Revista Políticas, Globalidad y Ciudadanía, 5(9), 31-45. Recuperado de http://revpoliticas.uanl.mx/index.php/RPGyC/article/view/110
Downloads
Download data is not yet available.
References
Anderson, C.; Regan, P. & Ostergard, R. (2002) Political Repression and Public Perceptions of Human Rights. Political Research Quarterly 55 (2). Pp. 439-456. DOI: 10.2307/3088060
Apodaca, C. (2007) The Whole World Could Be Watching: Human Rights and the Media. Journal of Human Rights. 6. Pp. 147-164. DOI: 10.1080/14754830701334632
Araya, S. (2002). Las representaciones sociales: Ejes teóricos para su discusión. Costa Rica: Facultad Latinoamericana de Ciencias Sociales (FLACSO) y Agencia Sueca para el Desarrollo Internacional (ASDI).
Cruz, J.C. (May 17, 2017). Con empleo informal, casi 6 de cada 10 mexicanos: INEGI. Proceso. Retrieved from: https://www.proceso.com.mx/486719/empleo-informal-casi-seis-10-mexicanos-inegi
Hernández, A. (June 17, 2014). 42% de los mexicanos no confía en sus autoridades, revela el INE. El Financiero. Retrieved from: http://www.elfinanciero.com.mx/politica/42-de-los-mexicanos-no-confia-en-sus-autoridades-revela-el-ine
Hertel, S.; Scruggs, L.; & Heidkamp, P. (2009) Human Rights and Public Opinion: From Attitudes to Action.
Political Science Quarterly 124 (3). Pp. 443-459.
Human Rights Watch (2018). México. Eventos del 2017. In Informe Anual 2018 - Human Rights Watch. Retrieved from: https://www.hrw.org/es/world-report/2018/country-chapters/313310
Martín-Barbero, J. (1987). De los medios a las mediaciones. Comunicación, cultura y hegemonía. Colombia: Convenio Andrés Bello.
McCorquodale, R. & Fairbrother, R. (1999) Globalization and Human Rights. Human Rights Quarterly 21(3). Pp. 723-766.
McFarland, S. & Mathews, M. (2005) Who Cares About Human Rights? Political Psychology 26 (3). Pp. 365-385
McLagan, M. (2003) Principles, Publicity, and Politics: Notes on Human Rights Media. Visual Anthropology. 105 (3) P. 605-612.
Moscovici, S. (2001). Social representations. Explorations in Social Psychology. New York: New York University Press.
Moscovici, S. (1976). Social influence and social change. Academic Press.
PUDH-UNAM (2017). Declaración Universal de Derechos Humanos. Programa Universitario de Derechos Humanos de la Universidad Nacional Autónoma de México. Retrieved from: http://www.pudh.unam.mx/ONU_declaracion-DH.html
Orozco, G. (1997). Medios, audiencias y mediaciones. Comunicar (8). Retrieved from: http://www.redalyc.org/pdf/158/15800806.pdf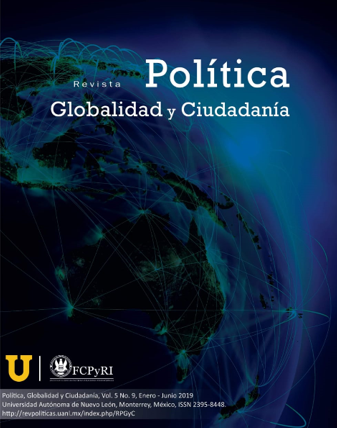 How to Cite
Inzunza-Acedo, B. E. (2019). Social Representations and Acknowledgement of Human Rights in the city of Monterrey, Mexico. Política, Globalidad Y Ciudadanía, 5(9), 43. https://doi.org/10.29105/pgc5.9-2
License

Esta obra está bajo una Licencia Creative Commons Atribución-NoComercial-SinDerivadas 4.0 Internacional.