University Paradiplomacy: The Internationalization of Higher Education in Latin America
Keywords:
Internationalization of education, Latin America, student mobility, paradiplomacy
Abstract
This article is the product of a literature review, which objective is to analyze the impact that universities have as agents of Paradiplomacy in the international sphere through their internationalization processes and strategies for which the case of some Universities of three Latin American countries, Chile, Argentina and Brazil were taken. The method of analysis was applied, with a qualitative approach, non-experimental design, under a transversal documentary-bibliographic level. After the documentary review, a brief analysis is carried out in which different internationalization strategies were found, as well as the historical processes that caused the Universities to expand. It is concluded that the internationalization of higher education in Latin America continues to face challenges, however, the strategies implemented by these countries have launched their universities to the international market.
Downloads
Download data is not yet available.
References
Acevedo, E. (2004). Internacionalização da Educação Superior no Brasil . ASSOCIAÇÃO DE UNIVERSIDADES AMAZÔNICAS .
Alfonso, A. (2015). uestões, objetos e perspetivas em avaliação. Avaliaçã. Campinas .
Angulo, P. (2015). La internacionalización de los gobiernos locales a través de la educación superior en México: el caso de Jalisco. RIMAC .
Astur, A., & Larrea, M. (2012). Políticas de internacionalización de la educación superior y cooperación. Obtenido de Minisitios del Ministerio de Educación: http://portales.educacion.gov.ar/spu/cooperacioninternacional/documentos-de-interes/
Beder, H. (1984). Realizing the Principles for successful collaboration . Jossey-Bas .
Berliner, B. (1997). What it takes to work together: the prom ise of educational partnerships. Wested .
Bertram, D. (2008). Likert Scales . Topic Report , 1-10.
Braslavsky, C., & Cosse, G. (2006). Las actuales reformas educativas en américa latina: cuatro actores, tres lógicas y ocho tensiones. Red Iberoamericana de Investigación sobre Cambio y Eficacia Escolar .
Buendía, A. (2012). Educación superior y aseguramiento de la calidad en México . CINDA .
Butler, R. (1961). Paradiplomacy, in Sarkissian. Studies in diplomacy .
Camicia, S., & Zhu , J. (2011). Citizenship education under discourses of nationalism, globalization and cosmopolitalism. Frontiers of Education in China .
Castillo, P. (2016). Internacionalización de la investigación y el postgrado de la Universidad de Chile. Universidad de Chile .
Chile, U. d. (2019). Uchile . Recuperado de http://www.uchile.cl/internacionalizacion
Cornago, N. (2000). Diplomacia, paradiplomacia redefinición de la seguridad mundial . Madrid : Marcial Pons.
Davenport, T. (2001). Working knowledge: How organizations manage what they now. Harvard Business School Press .
Duchaceck, I. (1990). Perforated sovereignties: toward a typology of new actors. Oxford : Oxford University Press.
Duchaceck, L. (2009). The territorial dimension of politics: within, among and across nations. New york : Greenwood Press.
Geldres, V. (2013). Internacionalización de la educación superior en Chile. Redalyc .
Iglesias, E., & Zubelzú, G. (2008). Las provincias argentinas en el escenario internacional. Desafíos y obstáculos de un sistema federal. Buenos Aires : Programa de las Naciones Unidas para el Desarrollo.
Justman, M., & Thisse, J. (1997). Implications of the mobility of skilled labor for local public funding of higher education. econpapers .
Leininger, J., & Javidan, M. (2010). Global leaders, global mindsets. China Staff .
López, F. (2008). Tendencias de la Educación Superior en el Mundo y América. Revista Avaliação .
Middlehurst, R. (2008). Not Enough Science or Not Enough Learning? Exploring the Gaps between Leadership Theory and Practice . Higher Education Quarterly .
Moog, M. (2018). Internacionalização da educação superior. Creative Commons .
Obledo, G. A. (2016). La acción internacional en materia cultural y educativa de la universidad de Guadalajara y su relacion con la Paradiplomacia. . Madrid : Universidad Complutense de Madrid .
Oregioni, M. (2015). "Internacionalización de las Universidades Argentinas hacia la Región Latinoamericana a partir de Redes de Cooperación. UNICEN .
Piva, C. D. (2018). Análise da internacionalização da educação. International Journal of Higher education .
Ramírez, B. (2017). ¿Internacionalizar? ¿Por qué? ¿Para qué? La internacionalización en las. Debate Universitario .
Ruiz-Gutierrez, C. (2014). Internacionalización de la educación superior paradiplomacia universitaria- y la gestión de la comunicación en este proceso. Piura Peru: Universidad de Piura.
Rumbley, L. (2009). Trends in Global Higher Education:Tracking an Academic Revolution. UNESCO .
Sebastian, J. (2004). Cooperación e internacionalización de las universidades. biblo .
Shultz, L., & Jorgenson , S. (2009). Global Citizenship Education in Post-Secondary Institutions: A Review of the Literature. University of Alberta .
Tardo, F. (2017). Experiencias y resultados preliminares sobre la nueva estrategia de idioma ingles. MEDISAN .
Teagarden, M. (2009). Developing globally competent leaders: The role of global mindset . Concepts and Connections .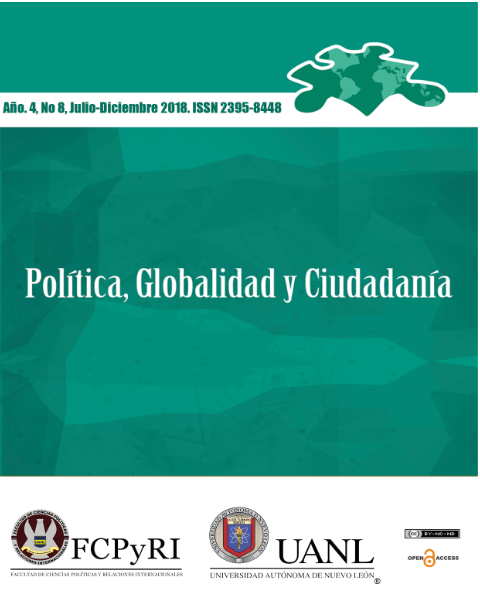 How to Cite
García Wadman, D. H., Jiménez Quintana, P., & Zapata Moran, M. G. (2019). University Paradiplomacy: The Internationalization of Higher Education in Latin America. Política, Globalidad Y Ciudadanía, 4(8), 37. https://doi.org/10.29105/pgc4.8-3
License

Esta obra está bajo una Licencia Creative Commons Atribución-NoComercial-SinDerivadas 4.0 Internacional.