Gender mainstreaming and sports public policy: The case of CONADE
Keywords:
Gender equality, gender gaps, gender mainstreaming, public policy, sport
Abstract
This article is a revision about the incorporation of the gender mainstreaming in the CONADE, the objective was to identify with interviews and an analysis from a qualitative perspective the situation of the incorporation of the gender mainstreaming in the sports public policy of high performance between the 2012 and 2018, and also to identify some gender gaps. The method was the grounded theory where the theory is created from the information.  It was found that women have been gradually accessing decision-making positions but there is still a long way to go, also the lack of policies of conciliation of work, family and social life, as well as attention in cases of harassment. It is concluded that progress in terms of gender perspective and sport has been slow since it is observed that some measures are still a sample of good actions without major importance as the lack of giving information to athletes about harassment.
Downloads
Download data is not yet available.
References
http://www.emakunde.euskadi.eus/contenidos/informacion/publicaciones_guias2/es_emakunde/adjuntos/29.guia.deporte.pdf
Espinosa, P. y Vargas, N. (2005). Mujer y deporte: una visión de género. Inmujeres. Recuperado de http://cedoc.inmujeres.gob.mx/documentos_download/100559.pdf
Guerrero, E., Hurtado, V., Azua, X., y Provoste, P. (2011). Material de apoyo con perspectiva de género para Formadores y Formadoras. Chile: Ministerio de Educación y Centro de Perfecciona- miento e Investigaciones Pedagógicas.
Foro Economico Mundial. (2018). The global gender gap report 2018. Suiza. Recuperado de http://www3.weforum.org/docs/WEF_GGGR_2018.pdf
Fundación Mujeres. (2010). Conciliación de la vida laboral, familiar y personal. Recuperado de http://www.ib.ccoo.es/comunes/recursos/12/doc22183_Conciliacion_de_la_vida_laboral,_familiar_y_personal._.pdf
Inchaustegui, T. y Ugalde, Y. (2006). La transversalidad del género en el aparato público mexicano: reflexiones desde la experiencia. Barquet, M (coordinadora), Avances de la perspectiva de género en las accioneslegislativas, Comisión de Equidad y Género, LIX Legislatura, Cámara de Diputados, México, 2006. Recuperado de http://www.inmujeres.gub.uy/innovaportal/file/21658/1/21_ichaustegui-ugalde_tranversalidad_genero_mx.pdf
Instituto Europeo para la Igualdad de Género. (2015). La igualdad de género en el deporte. Recuperado de https://www.google.com/url?sa=t&rct=j&q=&esrc=s&source=web&cd=1&cad=rja&uact=8&ved=2ahUKEwjAg5n91bnhAhUNWK0KHVgBCJ4QFjAAegQIAhAC&url=https%3A%2F%2Feige.europa.eu%2Fsites%2Fdefault%2Ffiles%2Fdocuments%2Fmh0215937esn.pdf&usg=AOvVaw214SWbm4jSoA9r5XcqntiM
Organización de las Naciones Unidas (2007). Mujer, igualdad de géneros y deporte. En La mujer en el 2000 y después. Recuperado de https://www.un.org/womenwatch/daw/public/Women_and_Sport_Spanish-web.pdf
Programa de las naciones unidas para el desarrollo (2006). Guía de transversalización de género en proyectos de desarrollo. México. Recuperado de http://www.dhl.hegoa.ehu.es/ficheros/0000/0103/guia_transversalizacion_de_genero.pdf
Programa de las naciones unidas para el desarrollo (2014). Indicadores de desarrollo humano y género en México: una nueva metodología. Ciudad de México. Recuperado de https://www.undp.org/content/dam/mexico/docs/Publicaciones/PublicacionesReduccionPobreza/InformesDesarrolloHumano/DHyG%20baja%20res.pdf
Red de municipalidades Rurales de Perú. (2007). Guía para el Diseño de Políticas Públicas Locales con Enfoque de Género. Recuperado de https://assets.helvetas.org/downloads/guia_de_diseno_de_politicas_publicas_locales_con_enfoque_de_genero.pdf
Saffai, P. (2013). Women in sport policy. En Thibault, L. y Harvey, J. (Eds.), Sport policy in Canada (pp.317-349). Ottawa, Canada; University of Ottawa press.
Secretaría de la Mujer del Estado de Michoacán. (2009). Herramientas para la transversalidad del enfoque de género en la educación básica en Michoacán de Ocampo desde la experiencia de un diagnóstico participativo.
Strauss, A. y Corbin, J. (2012). Bases de la investigación cualitativa, técnicas y procedimientos para desarrollar una teoría fundamentada. Medellín: Ed. Universidad de Antioquia.
Veléz, B. (2012). La incorporación de la perspectiva de género en la Universidad Autónoma del Estado México.
Logros, retos y obstaculización. En IX Congreso Iberoamericano de ciencia, tecnología y género (pp. 1-9) México, Universidad Autónoma del Estado de México, Sevilla, España
Zafra, G. (2005). Políticas públicas con perspectiva de género: avances sobre un programa de especialización para la administración públic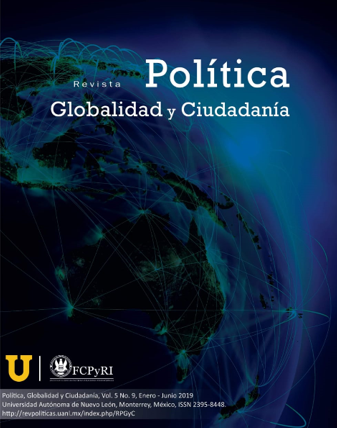 How to Cite
Mendoza-Farias, F. J. J., Quintal-López, R. I., & Paredes, L. J. (2019). Gender mainstreaming and sports public policy: The case of CONADE. Política, Globalidad Y Ciudadanía, 5(9), 75. https://doi.org/10.29105/pgc5.9-3
License
Copyright (c) 2019 Política, Globalidad y Ciudadanía
This work is licensed under a Creative Commons Attribution-NonCommercial-NoDerivatives 4.0 International License.

Esta obra está bajo una Licencia Creative Commons Atribución-NoComercial-SinDerivadas 4.0 Internacional.