Public policies of integration of immigrants. Successes and failures in Venezuela
Keywords:
Public policies, immigrants, missions, integration, Chavez.
Abstract
The present work entitled: Public policies of integration of immigrants, successes and failures in Latin America, chapter Venezuela. Try to make an outline of immigrant care policies in Venezuela from 1989 to the present. Its general objective is to analyze the policies of attention to immigrants in Venezuela from 1989 to 2019. It is presented in six sections, in the introduction there is a synchronous analysis of the phenomenon since the twentieth century, with its main features during that time. The content scheme is divided into a first point dedicated to the politics of immigrants from 1989 to 2003, then a second point that refers to the period of President Hugo Chávez that marks a differentiation with the rest of the presidential periods, a third section where social policies called missions that are born in 2003 and that are maintained until today are analyzed, where the identity mission stands out, aimed at providing legal documentation to migrants who arrive in Venezuela, then a review is made detailed legal framework, a fifth point dedicated to current affairs and finally the conclusions. The methodology used is the documentary analysis of scientific texts and press articles related to the subject.
Downloads
Download data is not yet available.
References
Álvarez de Flores, R. (2007) Evolución histórica de las migraciones en Venezuela. Revista sobre Fronteras e Integración. Aldea Mundo Año 11, No. 22 / Noviembre 2006 - Abril 2007 • ISNN 1316-6727 • Depósito Legal 1996-02TA-3
Balza, M. (2009) Los movimientos migratorios causas y consecuencias. Universidad Central de Venezuela. Caracas.
Borges, B. (2012) Análisis de la legislación migratoria venezolana desde el enfoque de derechos humanos hacia una verdadera defensa de la población migrante en Venezuela Revista Informe de Investigaciones Educativas, Vol. XXVI, año 2012, Pág. 99-111. ISSN: 1316-0648. Depósito Legal Pp. 198504DF11.
Díaz (2001) Los derechos de los inmigrantes en la Venezuela petrolera, Ediciones del Centro Gumilla, Caracas, Venezuela.
Informe de Ministerio de Trabajo y Promoción del Empleo MINTRA (2010). Recuperado de http.mintra.gob.ve
Informe de la CEPAL Comisión Económica para America Latina y el Caribe. (1999). Recuperado de: http://repositorio.cepal.org/handle/11362/4015
Informe de la facultad de ciencias sociales de la Universidad de Los Andes, 2001, Caracas Venezuela. Recuperado de http: ula.fcs.inf.es
Informe de la Universidad Católica Andrés Bello (2018). Observatorio de derechos humanos Venezuela.
Gómez y Rengifo (1999). Las consecuencias del boom petrolero. Ediciones nuevo mundo, Caracas, Venezuela.
León (2005). Los escenarios de la inmigración e integración desde 1898 hasta 1999, Universidad metropolitana de Caracas,
Ley de Extranjería y Migración (2004). Gaceta Oficial de la República Bolivariana de Venezuela.Nro.37.944, de fecha 24 de marzo del 2004. http://www4.cne.gob.ve/registrocivil/uploads/repoDocs/4f8bdabd7fa8aaf0533984cc7fc08addee07c6bb_1293024707.pdf
Rodríguez, F. (2010), Las etapas de la migración en Venezuela. Revista Saberes de la ULA, Caracas Venezuela.
Burelli, G. (2009). Los nuevos axiomas a la hora de hablar de migraciones. Ediciones Nueva Sociedad. Caracas, Venezuela.
Martínez, Z. (2005). Venezolanas en el Extranjero y Sus Usos de la Red. Una Patria Virtual, Comunidades Reales. Revista Comunicación Nro.129. Estudios Venezolanos de Comunicación. Centro Jumilla
Recuperado de https://dialnet.unirioja.es/servlet/articulo?codigo=5868716.
Montero, M. (2000) Las políticas de Hugo Chávez en la actualidad. Ediciones Revista Entrenos.
Ochoa, M. 25 de junio del 2019 Los escenarios sociopolíticos de la nueva Venezuela, Periódico de circulación nacional. El Nacional Venezuela.
Portal de economía de Venezuela (2004). Recuperado de http.portaleconomiavenezuela.com.ve
Rodríguez, A (2010), Antes de la diáspora la Venezuela que acogía inmigrantes Recuperado del portal de noticias. prodavinci.com/antes-de-la-diaspora-la-venezuela-que-acogia-inmigrantes/
Sassen Koob, La Sociología de las Migraciones: una breve historia, Espacio Abierto, vol. 25, núm. 4, 2016, Universidad del Zulia
Torrealba, B. (1987) Las condiciones socio económicas de la Venezuela de la etapa petrolera. Ediciones nueva sociedad, Caracas Venezuela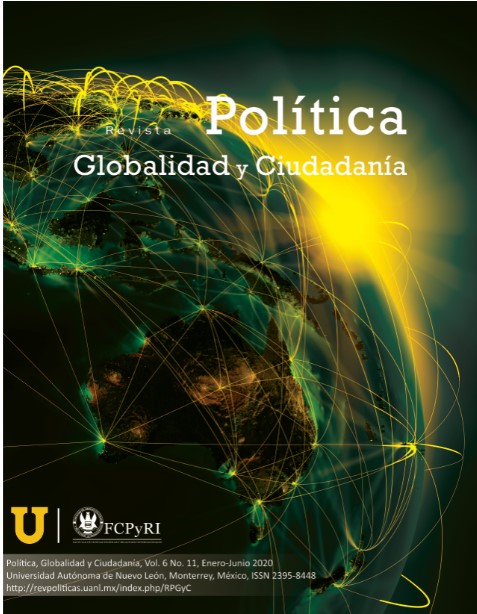 Downloads
How to Cite
Moreno, J. L. (2020). Public policies of integration of immigrants. Successes and failures in Venezuela. Política, Globalidad Y Ciudadanía, 6(11), 73. https://doi.org/10.29105/pgc6.11-4
License

Esta obra está bajo una Licencia Creative Commons Atribución-NoComercial-SinDerivadas 4.0 Internacional.