Labor insertion policies of returning Colombian migrants between 2012 and 2018
Keywords:
Labor market, migration policies, returnees
Abstract
The article aims to analyze if the linkages between migration policies and labor related measures for returnees in Colombia since the approval of the Law of Return, 2012. In order to do so, the authors use a documentary analysis methodology derived from a desk review of labor market information, employment and migration policies. This process considers aspects related to the design of differentiated programs for the returnee population and the existence or development of monitoring mechanisms. The article considers the context of emigration and return in Colombia, the labor profile of Colombian migrants in host countries, as well as the recent dynamics of the labor market in Colombia, discussing some structural factors such as unemployment and informality and the need to consider these aspects in the interventions created for the socioeconomic integration of returnees. The authors list and analyze the main activities on issues of employability and entrepreneurship as presented by the Ministries of Foreign Affairs and Labor in their management reports to demonstrate the existence and extent of inter-institutional coordination mechanisms. The article concludes with the need to collect and disseminate information on the evidence of the labor insertion of returnees in order to collect and propose technical inputs from different actors that could be included in the programs or policies aimed at doing so.
Downloads
Download data is not yet available.
References
Aliaga-Sáez, F.-A., Uribe, C., Ballén, D., Blanco, J., Robayo, I., & Castro Franco, A. (2019). Una innecesaria tipología para la migración de retorno. Análisis socio-jurídico de la Ley para el retorno de los colombianos en el exterior. Revista Austral de Ciencias Sociales, 36, 213–230.
Anleu Hernández, Claudia María. 2016 "La intervención del Trabajo Social con inmigrantes desde una mirada resiliente" Respuestas Transdisciplinares en una sociedad global. Aportaciones desde el Trabajo Social. Universidad Rioja Editores. https://publicaciones.unirioja.es/catalogo/online/CIFETS_2016/Monografia/pdf/TC219.pdf )
Bedoya, María. 2015. "El papel de las políticas públicas de migración y retorno en Colombia en el marco de la crisis económica mundial: los casos del Eje Cafetero, Cali, Medellín y Bogotá". Estudios Políticos. 46. Instituto de Estudios Políticos, Universidad de Antioquia, pp.79 - 99. http://www.scielo.org.co/pdf/espo/n46/n46a05.pdf
Cassarino, J. P. (2004). Theorising Return Migration: The Conceptual Approach to Return Migrants Revisited. International Journal on Multicultural Societies, 6(2), 253–279.
Ciurlo, Alessandra. 2015. Nueva política migratoria colombiana: El actual enfoque de inmigración y emigración. Revista Internacional de Cooperación y Desarrollo. Vol. 2, Núm. 2, Julio - Diciembre, 2015. DOI: https://doi.org/10.21500/23825014.2276
Colombia Nos Une. 2018. Informe ejecutivo de la Comisión Intersectorial para el Retorno 2013 – 2018.
https://onedrive.live.com/?authkey=%21AD9IwT4No28oUXk&cid=B570C4D8D5D7047F&id=B570C4D8D5D7047F%215805&parId=B570C4D8D5D7047F%212751&o=OneUp
Colprensa. (2018, 18 de diciembre). 1.102.000 venezolanos registrados en el país: Migración. El Heraldo. https://www.elheraldo.co/colombia/1102000-venezolanos-registrados-en-el-pais-migracion-579118
De Haas, Hein. 2008 Migration and development: a theoretical perspective. COMCAD Arbeitspapier, (29), 1–82. https://doi.org/10.1111/j.1747-7379.2009.00804.x
Delgado-Wise, Raul. 2009. Six theses to demystify the nexus between migration and development. Migración Y Desarrollo, 12 (March), 27–49. http://estudiosdeldesarrollo.net/revista/save.php?archivo=rev12ing/2.pdf
Departamento Administrativo Nacional de Estadística – DANE.
Boletín Técnico. Mercado laboral por sexo. Trimestre móvil diciembre 2017 – febrero 2018 https://www.dane.gov.co/files/investigaciones/boletines/ech/ech_genero/bol_eje_sexo_dic17_feb18.pdf
Boletín Técnico. Principales indicadores del mercado laboral. Diciembre de 2018. https://www.dane.gov.co/files/investigaciones/boletines/ech/ech/bol_empleo_dic_18.pdf
a Boletín Técnico. Mercado Laboral de la Juventud. Trimestre móvil marzo - mayo de 2019. https://www.dane.gov.co/files/investigaciones/boletines/ech/juventud/Bol_eje_juventud_mar19_may19.pdf
b Boletín Técnico. Medición de Empleo Informal y Seguridad Social. Trimestre Móvil diciembre de 2018 - febrero de 2019 https://www.dane.gov.co/files/investigaciones/boletines/ech/ech_informalidad/bol_ech_informalidad_dic18_feb19.pdf
González, Amparo. 2013. Retorno y Reintegración de los Migrantes Latinoamericanos en Europa en "Propuestas para Vincular las políticas de Migración y Empleo". OIM - FIAPP. https://www.fiiapp.org/wp-content/uploads/2015/04/49632d9d43e8579247fc3036e62491ba.pdf
López, S. (2019). Migración de retorno en el contexto de la crisis venezolana. In A. Castro (Ed.), Venezuela Migra: aspectos sensibles del éxodo hacia Colombia (pp. 65–85). Universidad Externado de Colombia.
Mármora, Lelio. 2002. Las políticas de migraciones internacionales. Paidós.
Mejía, William, et al. 2009. Resultados Generales de la Encuesta Nacional sobre Migraciones Internacionales y Remesas ENMIR 2008-2009. Observatorio Colombiano de Migraciones, Fundación Esperanza, Red Alma Mater. http://www.almamater.edu.co/AM/index.php/desarrollo-regional/k2-tags/red-de-observatorios/boletines/item/encuesta-nacional-de-migracion-internacional-y-remesas-enmir
Mejía, William 2013. Diáspora y mercado de trabajo en Colombia. Una mirada pensando en el retorno voluntario. FIIAPP y OIM: Bruselas. https://europa.eu/capacity4dev/file/18390/download?token=SSV40gIt (Marzo 23 de 2019)
Casi dos siglos de migración colombiana a Estados Unidos. Papeles de Población. [S.l.], v. 24, n. 98, p. 65-101, ene. 2019. https://rppoblacion.uaemex.mx/article/view/9929
Ministerio de Relaciones Exteriores de Colombia.
A, b, c de la Ley 1565 de 2012. Ley de Retorno. http://finlandia.embajada.gov.co/sites/default/files/news/attachments/abc_ley_de_retorno_actualizado_oct_2015_con_portada.pdf (Septiembre 25 de 2018)
a Fortalecimiento de la capacidad institucional para el desarrollo de estrategias para el acompañamiento a los connacionales que retornan al país a nivel nacional. http://www.cancilleria.gov.co/sites/default/files/FOTOS2018/fortalecimiento_de_la_capacidad_institucional_para_el_desarrollo_de_estrategias_para_el_acompanamiento_a_los_connacionales_que_retornan_al_pais_a_nivel_nacional.pdf (Septiembre 26 de 2018)
b Presentación del Programa Colombia Nos Une ante la OEA el 3 de abril de 2018. http://scm.oas.org/pdfs/2018/CIDRP02232S01.PPTX (Septiembre 20 de 2018)
Informe de Gestión. https://www.cancilleria.gov.co/ministry/planeacion/informe-gestion
Ministerio del Trabajo. 2018. Informe de Gestión del sector Trabajo 2017. http://www.mintrabajo.gov.co/documents/20147/58608443/Informe+de+Gesti%C3%B3n+2017+-+Sector+Trabajo.pdf
Ministerio del Trabajo, Ministerio de Relaciones Exteriores, Organización Internacional para las Migraciones – OIM. 2017 Cartilla de información y orientación laboral para la población colombiana en situación de retorno. http://www.mintrabajo.gov.co/documents/20147/59036289/CARTILLA+EMPLEO+RETORNO+op+3+completo+baja+11-10-2017.pdf
Organización Internacional para las Migraciones - OIM, y Organización de Naciones Unidas - ONU. 2003. Migración colombiana en España. http://publications.iom.int/system/files/pdf/migracion_colombiana.pdf
Peña, Ximena. 2013 "The formal and informal sectors in Colombia. Country case study on labour market segmentation." Employment Working Paper No. 146. ILO: Geneva. https://www.ilo.org/employment/Whatwedo/Publications/working-papers/WCMS_232495/lang--en/index.htm
Prieto-Rosas, Victoria. 2017. El desafío de la inserción laboral en las políticas de retorno de Colombia. Carta Económica Regional: CER 5–38.
Ravenstein, Ernst George. 1885. The Laws of Migration. Journal of the Statistical Society of London. https://doi.org/10.2307/2979181
Servicio Público de Empleo - SPE (2015) Boletín de Oportunidades Laborales 2 años SPE. http://www.serviciodeempleo.gov.co/observatorio/download/293/
Tarapuez Chamorro, Edwin; Osorio Ceballos, Hugo; Botero Villa, Juan José. 2013. Política de emprendimiento en Colombia, 2002-2010. Estudios Gerenciales Vol. 29 (2013) pp. 274 – 283 http://www.scielo.org.co/pdf/eg/v29n128/v29n128a02.pdf
Torales, Ponciano; González, M. Estela; Pérez Vichich, Nora (2003) "Migraciones laborales en Sudamérica: la Comunidad Andina." Estudios sobre migraciones internacionales. Organización Internacional del Trabajo - OIT. https://www.ilo.org/wcmsp5/groups/public/---ed_protect/---protrav/---migrant/documents/publication/wcms_201605.pdf
Uribe, Jhon F.; Fajardo, Eddy O.; Romero, Héctor L. 2017. Incidencia de las políticas públicas de empleo sobre la desocupación en Colombia: un análisis de intervención para el período 2002 – 2014 Revista Espacios Vol. 38 (Núm. 36) Año 2017 pp. 22- 42 Disponible en http://www.revistaespacios.com/a17v38n36/a17v38n36p22.pdf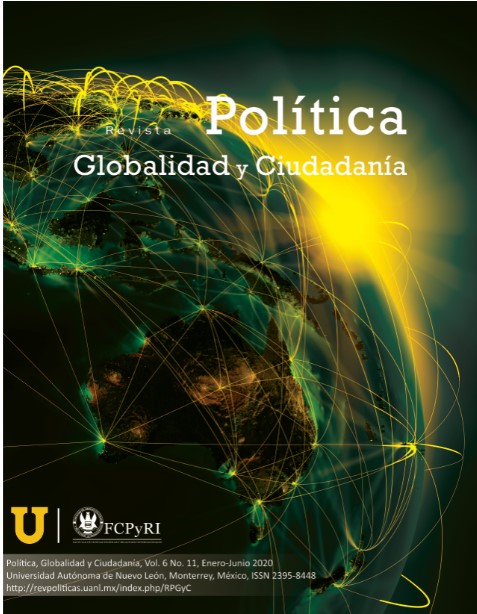 Downloads
How to Cite
Serrano, D. C. C., & López-Villamil, S. (2020). Labor insertion policies of returning Colombian migrants between 2012 and 2018. Política, Globalidad Y Ciudadanía, 6(11), 96. https://doi.org/10.29105/pgc6.11-5
License

Esta obra está bajo una Licencia Creative Commons Atribución-NoComercial-SinDerivadas 4.0 Internacional.