Social protest: is it a right or a threat? Analysis of the social protest seen in the threats to the civil rights of the citizen
Keywords:
Citizen's rights, manifestation, police, social protest
Abstract
Social protest, part of a right of the citizenship to recognize how the general welfare of the population prevails in accordance with the fulfillment of the minimum needs of individuals in the face of the construction of a social, political, and cultural system. The aim of this article is to analyze the threats faced by citizen from the perspective of civil rights. As a methodology, a documentary study is used, qualitative, with a nonexperimental design and cross-sectional, so it studies, so it studies with the use of databases and studies, a theoretical approach on social protest. It was found that, the role of the national police in social protest is disconnected from the goal of security forces, which is to provide security and guaranties to the civilian population, which only seeks to demonstrate that, power rests on the people in the form of moving society economically and politically, in turn trying to eliminate inequality and injustices committed by some particular minority, for this reason and in accordance with the constant clashes between two actors of society such as the civilian population and the national police, the civil rights of citizen are evolving in order to guarantee their right to a free and spontaneous manifestation.
Downloads
Download data is not yet available.
References
Álvarez Calderón, C. (2017). Escenarios y Desafíos de la Seguridad Multidimensional en Colombia. Escuela Superior de Guerra "General Rafael Reyes Prieto". DOI: https://doi.org/10.25062/9789585652835
Castells, M. (2012). Networks of Outrage and Hope: Social Movements in the Internet Age. Polity Press.
Centro de Estudios Judiciales (2017). La seguridad humana y su complementariedad con la seguridad ciudadana: un estudio de los asentamientos suburbanos. https://docplayer.es/86064841-La-seguridad-humana-y-su-complementariedad-con-la-seguridad-ciudadana-un-estudio-de-los-asentamientos-suburbanos.html
Centro de Investigaciones Socio Jurídica. (2013). Verba Iuris. Universidad Libre de Colombia. Bogotá D.C. 18(29). 192. ISSN 0121-3474. https://es.scribd.com/document/307783824/VERBA-IURIS-NUMERO-29-pdf
Cruz, C., Olivares, S. y González, M. (2014). Metodología de la Investigación. Grupo Editorial Patria
Fundacionhenrydunant. (2021, 20 de abril). Seguridad Ciudadana y Seguridad Pública. Obtenido de Políticas Públicas de Seguridad Ciudadana. https://www.fundacionhenrydunant.org/images/stories/biblioteca/ddhhsegciudadanaviolenciaurbana/Seguridad_ciudadana_y_seguridad_p%C3%BAblica.pdf
Ojeda, C. (2018, 15 de octubre). Retos de Seguridad Globales y Regionales. Washington D.C., District of Colombia, Estados Unidos: William J. Perry Center for Hemisferic Studies.
Gómez, D. (2021). Entre la seguridad pública y la seguridad ciudadana. Instituto de Estudios Geoestratégicos y Asuntos Políticos IEGAP- Universidad Militar Nueva Granada.
Hernández, R., Fernández, C., y Batista, P. (2014). Metodología de la investigación. (6ª ed.). McGraw-Hill / interamericana editores, s.a. de C.V.
Neil, D. y Cortéz, L. (2017). Procesos y fundamentos de la investigación científica. http://repositorio.utmachala.edu.ec/bitstream/48000/14232/1/Cap.4-
Portal Derechos.org. (2020). ¿Terrorismo o Rebelión? http://derechos.org/nizkor/colombia/libros/dih/cap4.html
PNUD. (2014, 15 de abril). Publicaciones, Prevención y Recuperación de Crisis. (Sinopsis: Seguridad Ciudadana). https://www1.undp.org/content/undp/es/home/librarypage/crisis-preventionand-recovery/IssueBriefCitizenSecurity.html
Rivera-Rojas, A., Ríos-Ochoa, D., Bustos-Páez, H., Gómez-Flores, J. N. y Varón Forero, L. (2020). Características de la protesta social (Universidad Católica de Colombia). https://repository.ucatolica.edu.co/handle/10983/24323
UNODC. (2010). POLICÍA Seguridad pública y prestación de servicios policiales Manual de instrucciones para la evaluación de la justicia penal. Oficina de las Naciones Unidas Contra la Droga y el Delito.
World Economic Forum. (2018).The Global Risk Report 2018 13th Edition. World Economic Forum.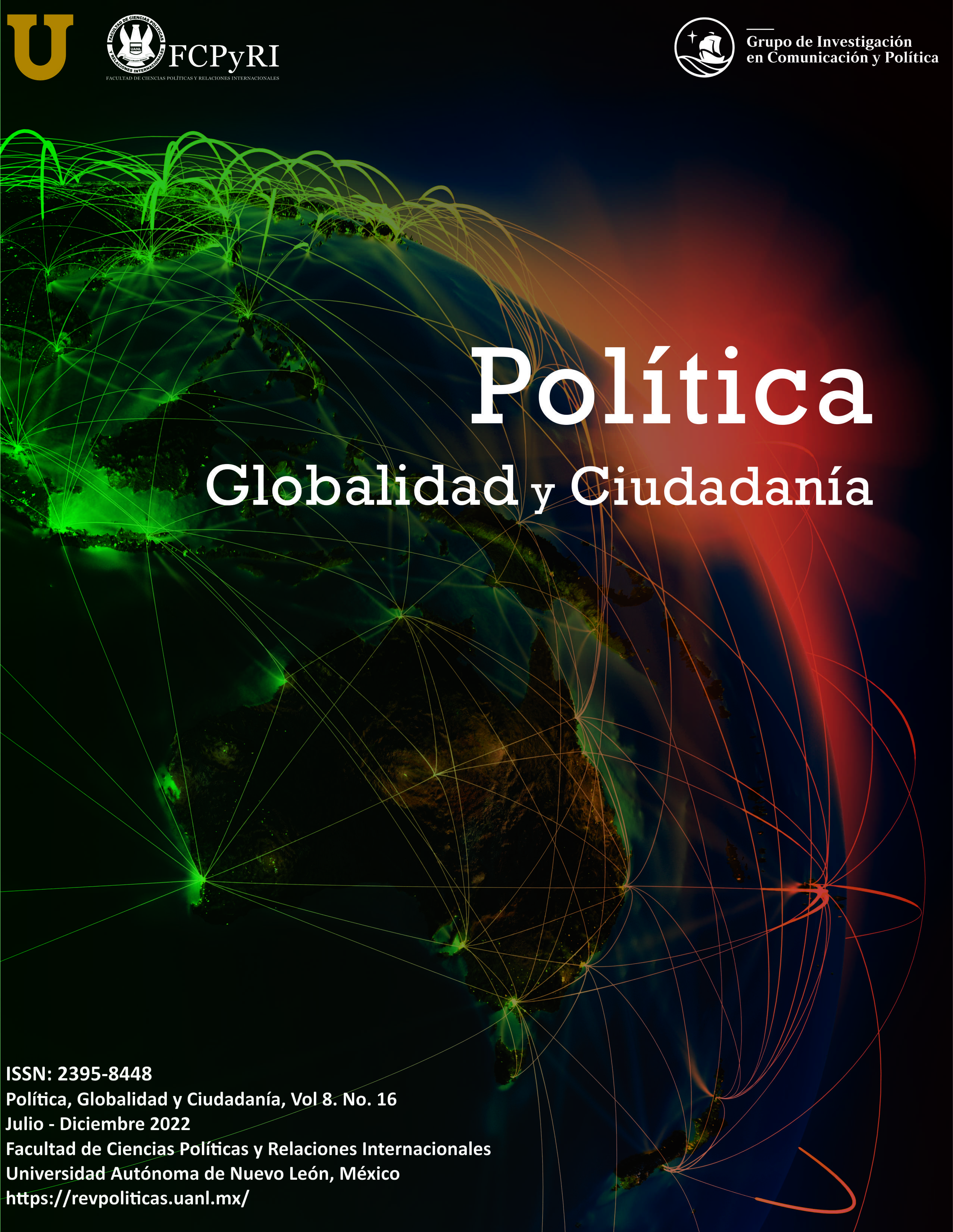 Downloads
How to Cite
Sierra Gutierrez, W. A. (2022). Social protest: is it a right or a threat? Analysis of the social protest seen in the threats to the civil rights of the citizen . Política, Globalidad Y Ciudadanía, 8(16), 175–194. https://doi.org/10.29105/pgc8.16-9
License
Copyright (c) 2022 William Alfredo Sierra Gutierrez
This work is licensed under a Creative Commons Attribution-NonCommercial-NoDerivatives 4.0 International License.

Esta obra está bajo una Licencia Creative Commons Atribución-NoComercial-SinDerivadas 4.0 Internacional.