Pedagogical strategy orientated at enhancing English language learning at the ARC Naval School "Barranquilla"
Keywords:
Underachievement, strategy, English language, pedagogy, open educational resources
Abstract
This article is the product of research carried out to design a pedagogical strategy aimed at enhancing the learning of the English language, based on the description and analysis of a diagnosis of the causes of academic underachievement and loss of the English subject in the cabin boys of the ARC Naval School "Barranquilla". The purpose was to design a strategic tool that would integrate the different educational resources that would guarantee the maximum academic performance in the cabin boys (students) in the learning of a foreign language (English). The methodological design was an experimental quantitative model, which in essence has a great development of pre-experimental order; however, it also uses non-experimental elements of cross-sectional descriptive and correlative type. Among the main expected results is the visible acceptance and high employability of a strategy composed of selective resources, designed considering the inherent characteristics of the students under investigation; key conditions for determining these specific variable necessary to establish, prospectively, an adequate field of action in the strategy based on theoretical references related to the object of research.
Downloads
Download data is not yet available.
References
Avilés Rodríguez, J. M. (2016). Estrategias metodológicas y su influencia en el aprendizaje significativo en los estudiantes de la escuela de educación básica maría auxiliadora del cantón ventanas provincia de los ríos (Bachelor's thesis, Babahoyo: UTB, 2016). https://dspace.utb.edu.ec/handle/49000/1572
Beltrán, M. (2017). El aprendizaje del idioma inglés como lengua extranjera. Revista Boletín Redipe, 6 (4), 91-98. https://revista.redipe.org/index.php/1/article/download/227/224 DOI: https://doi.org/10.36260/rbr.v6i4.227
Clavijo, C.E. (2021). El uso de estrategias didácticas basadas en las tic para el fortalecimiento del aprendizaje de la química. trascendere, 1 (2), 1-33. https://www.revistas.upel.edu.ve/index.php/trascendere/article/viewFile/8946/5486
Chávez-Zambano, MX, Saltos-Vivas, MA, y Saltos-Dueñas, CM (2017). La importancia del aprendizaje y conocimiento del idioma inglés en la enseñanza superior. Dominio de las Ciencias, 3 (3 mon), 759-771. https://dominiodelasciencias.com/ojs/index.php/es/article/viewFile/707/787
De Moya, L., Candanosa, L. y Gutiérrez, E., (2020). Estrategia Pedagógica orientada a Potencializar el aprendizaje del Idioma Inglés en alumnos del Programa de Sanidad Naval de la Escuela Naval de Suboficiales ARC "Barranquilla". Maestría en Educación. Universidad Autónoma del Caribe.
Educación, S. (2017). Colombia y su preocupante nivel de inglés. Revista Semana. https://www.semana.com/educacion/articulo/bilinguismo-nivel-de-ingles-en-colombia/542736
Escobar Hoyos, D., y Montes de Oca Reyes, A. D (2020). El papel del dominio del inglés en las expectativas para elegir una institución de educación superior en Colombia (Doctoral dissertation, Universidad Eafit). https://repository.eafit.edu.co/bitstream/handle/10784/17073/Daniel_EscobarHoyos_AbelDavid_MontesDeOcaReyes_2020.pdf?sequence=2
Escobar Martínez, K., y Ocampo Mercado, MDC (2016). Relación entre las estrategias de aprendizaje y el rendimiento académico en estudiantes de segundo año de una escuela de formación naval-militar de carácter tecnológico (Tesis de maestría, Universidad del Norte).
Gardner, H. y Nogués, M. T. M. (1995). Inteligencias múltiples: la teoría en la práctica (Vol. 29). Paidós. https://biblioteca.uazuay.edu.ec/opac_css/index.php?lvl=notice_display&id=75995
Gorjón-Gómez, F. y Quintero-De-Moya, H.-F. (2021). La justicia terapéutica como política de bienestar social. Revista Iberoamericana de Justicia Terapéutica, 1-10. https://revistamsc.uanl.mx/index.php/m/article/download/5/4
Kostina, I. (2012). English Language Proficiency Level of Pre-service Teachers: The Proficiency Tes. Lenguaje, 40(2), 383-413. https://www.scielo.org.co/scielo.php?script=sci_arttext&pid=S0120-34792012000200005
Mancero-Orozco, WG y Veloz-Andrade, LA (2017). Algunas nociones acerca de las competencias en el idioma Inglés. Polo del Conocimiento, 2 (6), 1278-1287. https://polodelconocimiento.com/ojs/index.php/es/article/view/276 DOI: https://doi.org/10.23857/pc.v2i6.276
Montaño Sotomayor, N. (2017). Talleres motivacionales para mejorar la autonomía de los estudiantes del tercer grado de la Institución Educativa Secundaria "Nuestra Señora del Rosario". Abancay-2016. https://repositorio.ftpcl.edu.pe/bitstream/handle/FTPCL/642/NOHELIA%20MONTA%C3%91O%20SOTOMAYOR%20-%20licenciatura-.pdf?sequence=3.
Mora, M. C. G., Sandoval, Y. G. y Acosta, M. B. (2013). Estrategias pedagógicas y didácticas para el desarrollo de las inteligencias múltiples y el aprendizaje autónomo. Revista de investigaciones UNAD, 12(1), 101-128. https://hemeroteca.unad.edu.co/index.php/revista-de-investigaciones-unad/article/view/1162 DOI: https://doi.org/10.22490/25391887.1162
Navarro, R.E. (2003). El rendimiento académico: concepto, investigación y desarrollo. REICE. Revista Iberoamericana sobre Calidad, Eficacia y Cambio en Educación, 1 (2), 0. https://www.redalyc.org/pdf/551/55110208.pdf
Olivencia, J. J. L. y Martínez, N. M. M. (2015). Tecnologías de geolocalización y realidad aumentada en contextos educativos: experiencias y herramientas didácticas. DIM: Didáctica, Innovación y Multimedia, (31), 1-18. https://www.raco.cat/index.php/DIM/article/download/291534/380014
Pérez, Z. P. (2011). Los diseños de método mixto en la investigación en educación: Una experiencia concreta. Revista electrónica educare, 15(1), 15-29. https://www.redalyc.org/pdf/1941/194118804003.pdf DOI: https://doi.org/10.15359/ree.15-1.2
Pérez, V. M. O. y Barberis, L. T. (2005). Análisis de los hábitos de estudio en una muestra de alumnos universitarios. Revista Iberoamericana de educación, 36(7), 1-9. https://rieoei.org/rie/article/view/2929 DOI: https://doi.org/10.35362/rie3672929
Rojas Álvarez, C. (2013). La instrucción geométrica y la representación plana de módulos multicubos en un grupo de alumnos: un diseño preexperimental. zona próxima, 19, 56-62.
Rodríguez Garcés, C. (2015). Competencias comunicativas en idioma inglés: La influencia de la gestión escolar y del nivel socioeconómico en el nivel de logro educativo en L2-inglés. Perfiles educativos, 37 (149), 74-93. http://www.scielo.org.mx/scielo.php?script=sci_arttext&pid=S0185-26982015000300005 DOI: https://doi.org/10.22201/iisue.24486167e.2015.149.53123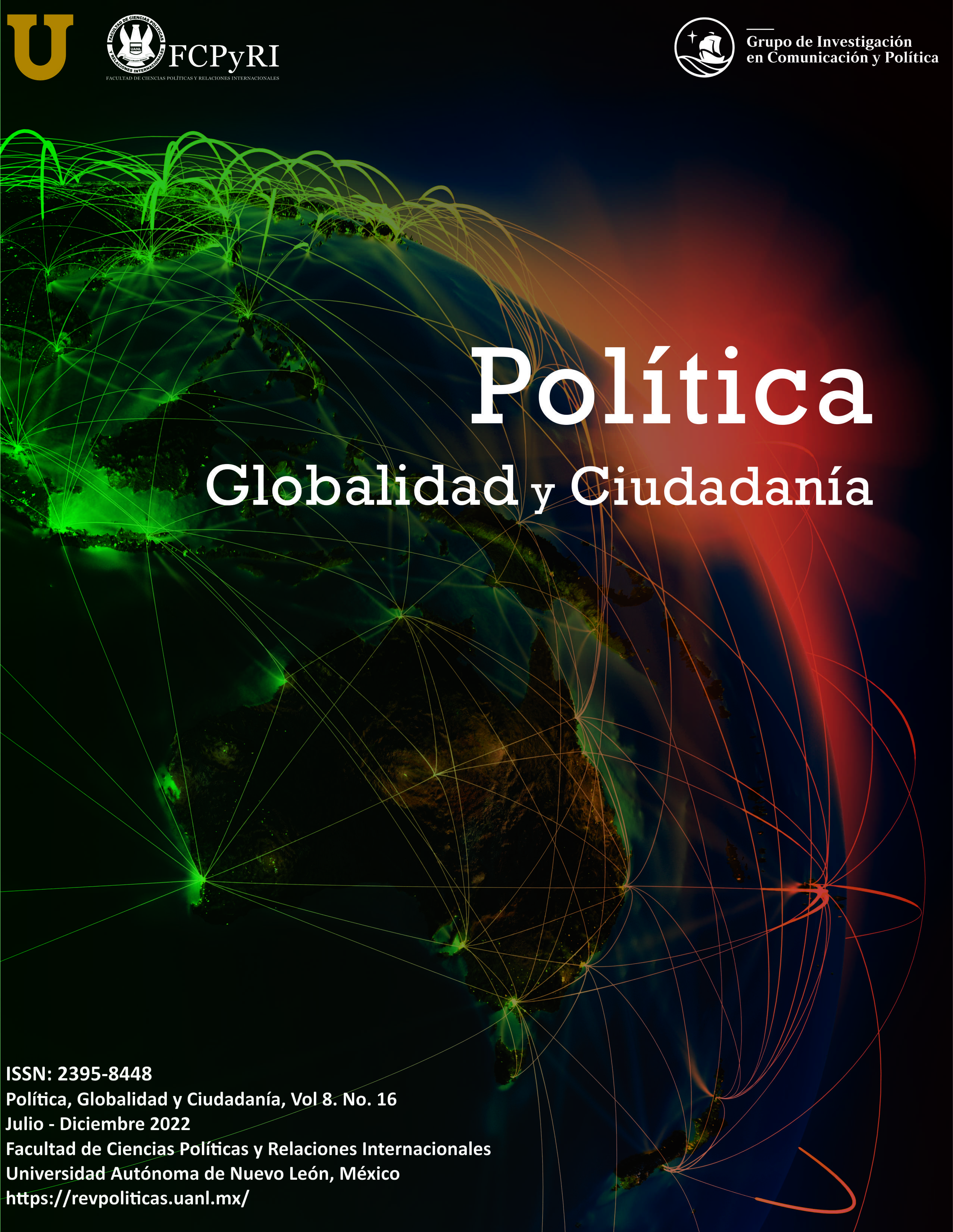 Downloads
How to Cite
De Moya, L., Candanosa, L., Gutiérrez, E., & Quintero-De-Moya, H.-F. (2022). Pedagogical strategy orientated at enhancing English language learning at the ARC Naval School "Barranquilla". Política, Globalidad Y Ciudadanía, 8(16), 242. https://doi.org/10.29105/pgc8.16-12
License
Copyright (c) 2022 Luis De Moya, Luis Candanosa, Elkin Gutiérrez, Hamudy-Fabian Quintero-De-Moya
This work is licensed under a Creative Commons Attribution-NonCommercial-NoDerivatives 4.0 International License.

Esta obra está bajo una Licencia Creative Commons Atribución-NoComercial-SinDerivadas 4.0 Internacional.