Urban mobility as a way for sustainable development: Case of Nuevo León
Keywords:
Citizen Competencies, Sustainable Development, Urban Mobility, 2030 Agenda
Abstract
Urban mobility is increasingly present when addressing strategies for sustainable development within urban areas. Therefore, it is necessary to generate strategies to propose urban planning according to the real needs of the population. Mobility is of the utmost importance for a decent and good quality of life for citizens. Thus, the promotion for the fulfillment of the objectives for the sustainable development of the Agenda 2030 of the United Nations has allowed a new impetus to address the concepts of sustainability in urban transport systems, from a focus of citizen competences that are involved in such development. Analyzing the metropolitan area of Nuevo León is pertinent in this sense, since it is years behind with respect to road culture and urban mobility. Therefore, the objective of this article is to analyze, through indicators proposed by international organizations, the challenges and opportunities of the area, in order to identify and evaluate proposals for urban mobility as a way for sustainable development in Nuevo León. For the present study, a qualitative investigation is carried out, carried out from a documentary and bibliographical analysis.
Downloads
Download data is not yet available.
References
Chambueta, A. (2021). Fomento de competencias ciudadanas desde tópicos filosóficos para lograr cambios en conductas pro-ecológicas. [Tesis de licenciatura]. Universidad Pedagógica Nacional.
Cómo Vamos Nuevo León (s.f.). ¿Quiénes somos? Recuperado el 08 de abril de 2022 de http://www.comovamosnl.org/quienes-somos
European Platform on Sustainable Urban Mobility Plans (2019). Guidelines for developing and implementing a sustainable urban mobility plan. (2nd Ed.) Rupprecht Consult. https://www.eltis.org/sites/default/files/sump_guidelines_2019_interactive_document_1.pdf
Gobierno de Aragón (2015). Proceso participativo: Elaboración del plan de movilidad urbana sostenible en Jaca. Laboratorio de Aragón [Gobierno] Abierto. Recuperado de: https://gobiernoabierto.aragon.es/agoab/participacion/procesos/25209
Gómez, J., Grau, A., Ingellis, A., & Jabbaz, M. (2012). Técnicas cualitativas de investigación social. Departamento de Sociología y Antropología Social, Universidad de Valencia.
Gómez Gil, C. (2018). Objetivos de Desarrollo Sostenible (ODS): una revisión crítica. Papeles de relaciones ecosociales y cambio global, (140), 107-118.
Instituto Nacional de Geografía y Estadística [INEGI] (2021). Accidentes de tránsito por clase. https://www.inegi.org.mx/app/tabulados/interactivos/?px=ATUS_1&bd=ATUS&idrt=168&opc=t
Martínez, A. (2022). México presenta un rezago de 45 años en movilidad, afirman especialistas. De Respuesta. Recuperado de: https://www.respuesta.com.mx/index.php/home/estado/30-noticias-principales/126565-mexico-presenta-un-rezago-de-45-anos-en-movilidad-afirman-especialistas.html
Molina, M., Mena, C., & Mediavilla, A. (2019). Proyecto: Propuestas para el desarrollo sustentable de una ciudad mexicana. Estudio del área metropolitana de Monterrey. Centro Mario Molina para estudios estratégicos sobre energía y medio ambiente. Recuperado de: http://aire.nl.gob.mx/docs/reportes/Propuestas_de_sustentabilidad_Monterrey.pdf
Montoya, J. (2008). El desarrollo de competencias ciudadanas en el ámbito escolar. Revista Virtual Universidad Católica del Norte, (24).
Murillo, G., & Castañeda, N. (2007). Competencias ciudadanas y construcción de ciudadanía juvenil. Revista del CLAD Reforma y Democracia, 37, 1-17.
Organización de las Naciones Unidas [ONU] (2020). 17 objetivos para transformar nuestro mundo. Recuperado de: https://www.un.org/sustainabledevelopment/es/
Oszlak, O. (2013). Gobierno abierto: hacia un nuevo paradigma de gestión pública. Red de Gobierno Electrónico de América Latina y el Caribe. Recuperado de: https://www.oas.org/es/sap/dgpe/pub/coleccion5rg.pdf
Pacto Mundial (2021). 11 ciudades y comunidades sostenibles. De Pacto Mundial Red Española. Recuperado de: https://www.pactomundial.org/ods/11-ciudades-y-comunidades-sostenibles/
Soto, K., & Gómez, J. (2020). Gobernanza y movilidad urbana hacia la sustentabilidad. Comunidad educativa en Monterrey, México. Bitácora Urbano Territorial, 30(3), 95-107. doi: https://doi.org/10.15446/ DOI: https://doi.org/10.15446/bitacora.v30n3.80196
TRANSCONSULT (2020). Programa Integral de Movilidad Urbana Sustentable de la Zona Metropolitana de Monterrey. Recuperado de: http://atlas.nl.gob.mx/pimus/Documentos/Doc_Ejecutivo_PIMUS-ZMM_p.oficial_dic-2020br.pdf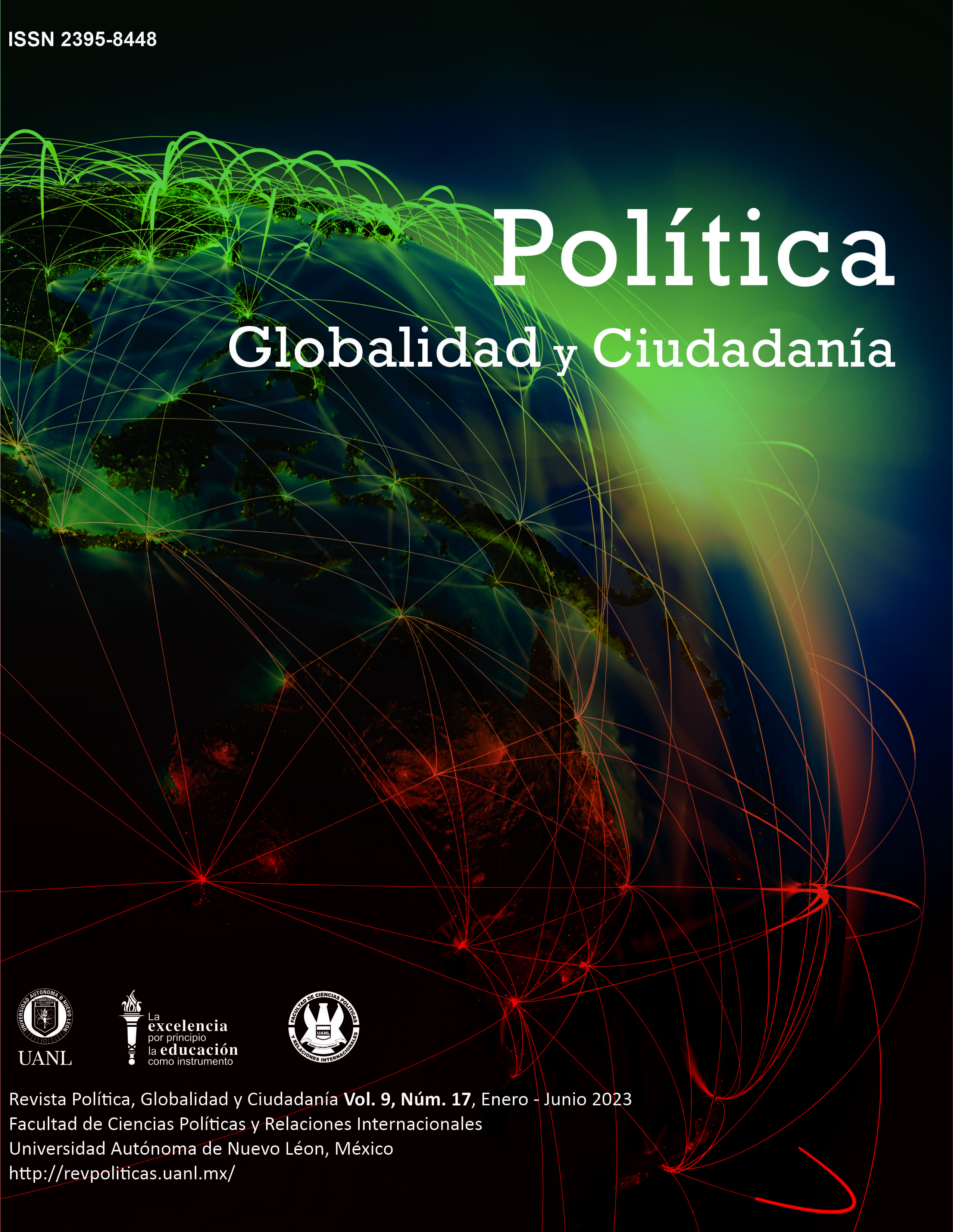 Downloads
How to Cite
García Sepúlveda, S. A., & Ramírez Viveros, A. (2022). Urban mobility as a way for sustainable development: Case of Nuevo León. Política, Globalidad Y Ciudadanía, 9(17), 01–19. https://doi.org/10.29105/pgc9.17-10
License
Copyright (c) 2022 Samuel Alejandro García Sepúlveda, Alejandro Ramírez Viveros
This work is licensed under a Creative Commons Attribution-NonCommercial-NoDerivatives 4.0 International License.

Esta obra está bajo una Licencia Creative Commons Atribución-NoComercial-SinDerivadas 4.0 Internacional.